Healthcare Compliance Simplified
Failing to meet State & Federal regulations can mean both costly penalties and loss of productivity from audits and inspections. It's  crucial to keep staff compliant for a safe work environment and a much better patient experience. Taking these important steps ensures patient retention and employee job satisfaction. 
Our complete library of courses offer a total compliance solution for OSHA, HIPAA, FWA, Sexual Harassment and infection control safety standards and much more. AMC offers an affordable online solution allowing employees to work around their schedules without disrupting your daily processes or using costly consultants.
AMC will also adapt to your current LMS or Payroll platform for a simple onboarding process that is convenient, user-friendly and cost effective.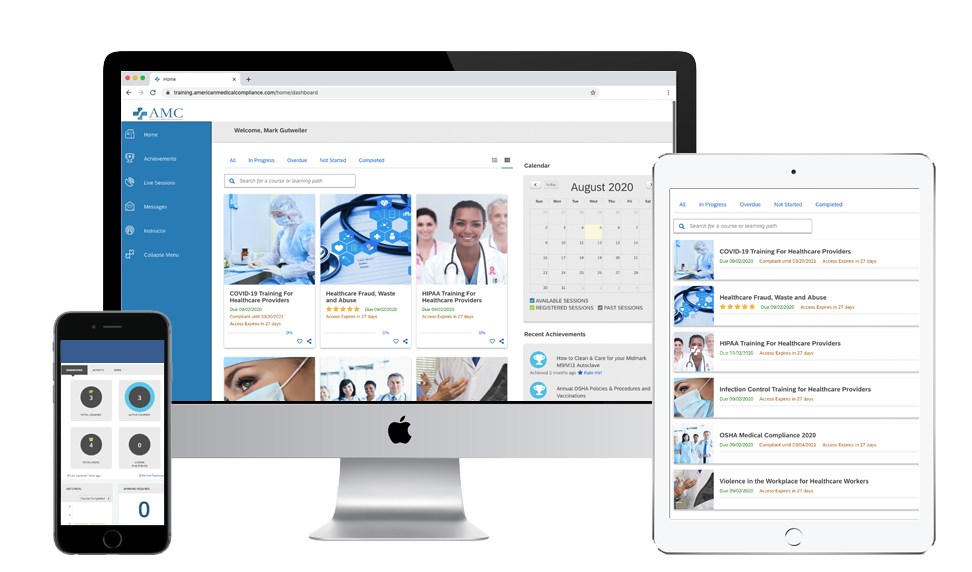 Enterprise Ready Training Modules
Flexible enterprise compliance training modules that are fully customizable and SCORM-compliant with all major payroll platforms.
Welcome to American Medical Compliance
American Medical Compliance (AMC) is a healthcare compliance leader specializing in Infection Control, OSHA, HIPAA, HR management, and soft skills solutions. Now is a crucial time to revisit your compliance platform to ensure your staff and patients' safety. Our easily accessible, mobile friendly course library is current with the latest guidance from government agencies, including the CDC, OSHA, WHO and others.
Healthcare compliance doesn't have to be a time-consuming, complicated burden on staff. Enjoy our engaging, interactive modules with the latest learning management software in the industry. 
Avoid fines and litigation and create the safest possible work environment
Online Healthcare Compliance Solutions
Our commitment to providing best-in-class service has prompted us to develop several powerful tools to help you achieve compliance. This includes OSHA and HIPAA Compliance, Bloodborne Pathogen Protocols, HR products, and much more! Our web-based program is fast, easy, and secure. Click below to view online compliance training or our online OSHA compliance assessment.
Compliance Learning Tools Built for Teams with Diverse Needs!

What Our Customers Raving About!
I used AMC to stay up to date with all HR courses necessary to remain compliant and this has been the easiest, most convenient experience. User friendly platform, fits our company's needs and Mark and Yawar are very responsive. I highly recommend them!"
Our prestigious Med Spa has used AMC for our online educational platform for over 2 years. The team is always very accommodating to our last minute requests. Everyone has gone above and beyond to be kind and professional! We would always highly recommend American Medical.
I have enjoyed my experience with American Medical Compliance. Working with Mark, Hira and Yawar has been an absolute pleasure. The content is informative and nicely presented. I highly recommend this company if you are looking for a compliance partnership.
We have worked with American Medical Compliance for about 8 years now. Mark and his team are amazing. Mark is always willing to help and he keeps us on track with our OSHA and HIPAA compliance. He takes the time to answer my calls and my emails promptly. Our office highly recommends him to all our referring offices.
I have been working closely with AMC for close to a year now. They have provided our organization with quality trainings and service excellence... They have changed norms and practices to accommodate our needs and always provide quality service within a reasonable amount of time. Any task, project, or request that our organization has sent has been met, usually within the hour. Any team member is always happy to help, and they can always provide you with resources for better understanding.
Start Your
Free Trial Today
Get access to a free 7-day trial to see how our platform can simplify the compliance requirements of your team.