Our online learning platform provides an entirely new way for healthcare employees and first responders to become compliant. We have streamlined the process with over 222 training products in our library. This allows medical, hospital, urgent care, long-term care, EMT, and first responders to be more cost-effective while satisfying federal and state requirements.
Most learning management platforms only offer courses and certification. We provide the Federal and state annual evaluation forms electronically, as well as an annual review of policies and procedures, such as Sharps review, Disinfection and Decontamination, Personal Protective Equipment, and more. These documents are easily accessible on your dashboard.
American Medical Compliance combines a powerful online learning management system with sophisticated HR software to assist in managing your employees:
New Prospective Employee Applicant tracking
HR Reporting
Employee Self-Onboarding and Offboarding
Custom Work Flows & Reports
Time Off tracking
Electronic Signatures
Employee DataBase & Records
Performance Management Software and Goal Setting
We have an automated reporting system that will send you a weekly report, giving you a summary of all the employees' statuses and certifications. This helps managers stay in control of all employees to assure that Federal and local laws are satisfied.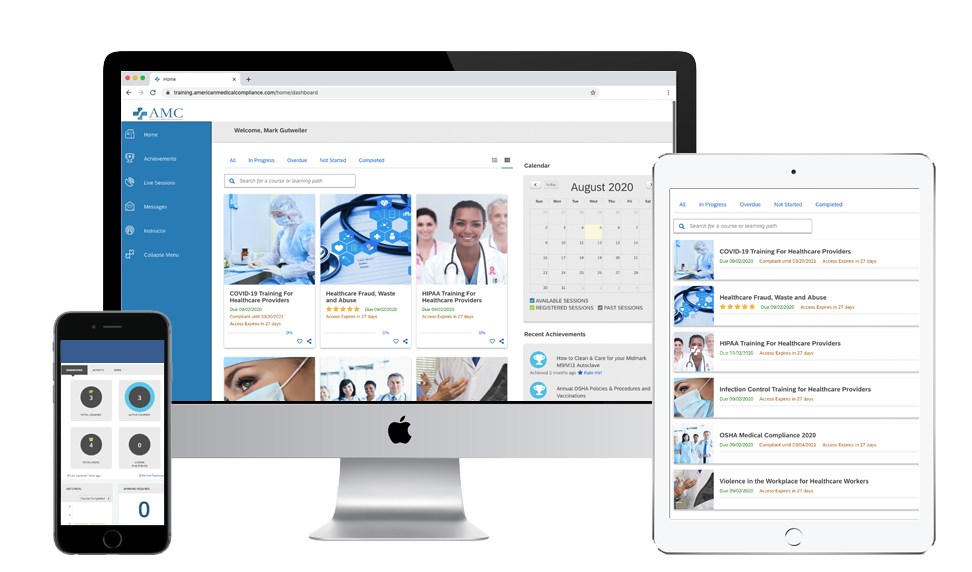 Take Advantage of the Benefits of Online Learning Today!
Start Your
Free Trial Today
Get access to a free 7-day trial to see how our platform can simplify the compliance requirements of your team.